Four Seasons Personal Trainers
At Four Seasons, your Personal Trainer isn't just a stranger who you spend time with one or two hours a week. Our Personal Trainers are here to coach you through your fitness goals, not only are they here to assist you in improving your physical needs but to help motivate and encourage you! Our Trainers, like much of our staff here, are committed to helping you live an overall healthier lifestyle.
We take the time to pair you with someone who not only fits your schedule but who specializes in the fitness areas you hope to improve. It is even better if we can pair you with someone who has similar interests and characteristics you are looking for in a fitness coach. This series of Trainer Tuesday blogs uses a short Q&A to introduce you to a new Four Seasons Personal Trainer each week. Read about them, get to know them better, say hello in the gym, sign up for a consultation and allow them to become a coach and advocate for your healthier lifestyle!
This week's featured Personal Trainer: Donna Wagner!
Q: When did you join the Four Seasons family?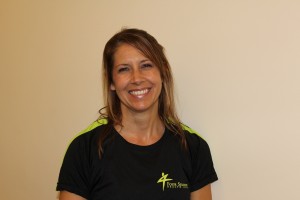 A: In January 2006 I began working as a Group Exercise Instructor.
Q: How long have you been training?
A: I added Personal Fitness Training to my work experience in May of 2010.
Q: What is your favorite thing about personal training?
A: I love working with people one-on-one and getting to know them on a personal level. Most of my clients have become my good friends.
Q: Do you have a favorite personal training memory?
A: When one of my clients accomplished her 70 pound weight loss goal. She has since kept the weight off, looks amazing, has tons of new found energy and continues to set new goals.
Q: Can you tell us a little bit about your Small Group Training class?
A: I teach a bootcamp style Small Group Training that incorporates high intensity interval training and pure strength training all in one workout. I believe in the "get more done in less time" style of workout. A high intensity workout burns more fat not only during your workout but also for 24 hours after your workout. The muscle you build also contributes to long term fat loss and increases your metabolic rate which naturally when one is sedentary decreases as you age. Your body has to work hard to repair itself after serious training which is what gives you that after workout calorie burn all day and that beautiful lean muscle which I am convinced is the secret to the fountain of youth.
I also teach a reformer pilates small group that focuses on core stability, flexibility and mobility. The reformer pilates environment is more zen-like and relaxing which also gives you an outlet to relieve stress. Stress unchecked over time causes serious physical health problems. A chance to center down, focus and tune into how you feel physically through precise, slow, controlled movement and breath control should be part of everyone's regular weekly fitness routine.
Q: What is your training philosophy?
A: Health and wellness is more than just moving your body to take care of it. Don't get me wrong, I believe it is probably the most important part of being healthy. However, if we do not also pay attention to other areas of who we are…in other words who we are mentally, socially, emotionally and even spiritually, we will not achieve wholeness. The condition of every area of our lives will affect other areas. Our mental wellness affects our physical wellness, our emotional state will affect our social wellness, physical wellness affects just about every area. Everything we do for ourselves physically will overflow into other areas of our lives and will make us better at everything we do. Achieving WHOLENESS by paying attention to every area is the key.
Q: What is your favorite thing to do in the gym? (Ex. Lift weights, deadlift, run, play racquetball, swim, etc.)
A: If you see me working out for my own personal workout I love to combine pure strength sets with a burst of high intensity intervals. I alternate high intensity sets with strength sets.
Q: What do you do outside of Personal Training?
A: I have a family of 4. My kids are older now (oldest is 21 and youngest is 14). I'm always busy keeping up with them. I also love to write and read, meditate and take long walks when it's nice outside.
Q: Lastly, why should anyone purchase a Personal Training package?
A: I might need to write a book about this topic…BECAUSE YOU ARE WORTH IT!! Like I said earlier…is anything worth more than your physical health and well being? Being strong and healthy will give you a quality of life you'll be so grateful for when you hit your older season of life. I want to enjoy my life for as long as I can…"To be as young as I can for as long as I can." If I live to be old I don't want to be miserable and physically hobble around or need others to help me. What a burden! I don't think anyone wants that. If you are not sure how to go about getting the BEST workout possible to help you become strong, flexible, more mobile, more able to endure a strenuous task, more functional in everyday life and to understand how to best relieve stress…then you NEED a trainer. Don't wait another day. The older you get the harder it becomes to get started and to keep after it. Everything you learn form your trainer you will take with you forever…and it has the greatest return on the investment!
You can read more about Four Seasons Personal Training and about our trainers here. Fill out our Personal Training Request today for a complimentary Personal Training consultation!