Four Seasons Personal Trainers
At Four Seasons, your Personal Trainer isn't just a stranger who you spend time with one or two hours a week. Our Personal Trainers are here to coach you through your fitness goals, not only are they here to assist you in improving your physical needs but to help motivate and encourage you! Our Trainers, like much of our staff here, are committed to helping you live an overall healthier lifestyle.
We take the time to pair you with someone who not only fits your schedule but who specializes in the fitness areas you hope to improve. It is even better if we can pair you with someone who has similar interests and characteristics you are looking for in a fitness coach. This series of Trainer Tuesday blogs uses a short Q&A to introduce you to a new Four Seasons Personal Trainer each week. Read about them, get to know them better, say hello in the gym, sign up for a consultation and allow them to become a coach and advocate for your healthier lifestyle!
This week's featured Personal Trainer: Liz Adams!

Q: When did you join the Four Seasons family?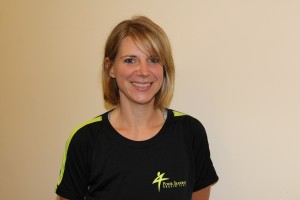 A: My family and I became members in 2005.
Q: How long have you been training?
A: I joined the team in February 2013.
Q: What is your favorite thing about personal training?
A: When a member has that "a-ha" in realizing it's not just about losing weight, but overall improvement in their quality of life: walking up and down the stairs easier, getting up off the floor easier, improved energy to play with their kids.
Q: Do you have a favorite personal training memory?
A: I love when I show someone a new exercise and they look at me like I'm crazy, but they totally nail it. "See I knew you could do it!"

Q: What is your training philosophy?
A: I like to make sure every major muscle group is worked for a balanced workout and to help prevent injury.
Q: What is your favorite thing to do in the gym? (Ex. Lift weights, deadlift, run, play racquetball, swim, etc.)
A: I love to WERQ!
Q: What do you do outside of Personal Training?
A: I'm a mom to a 13 and 11 year who keep me pretty busy. I'm an avid reader of fiction (Stephen King and Jodi Picoult) and non-fiction. I also love to cook and bake. I'm always on the look out for a new, healthy recipe to fix up for my family
Q: Lastly, why should anyone purchase a Personal Training package?
A: Personal training is a great way to get individual attention that works for you.  A trainer can show you a multitude of ways to modify because of past injuries, arthritis problems, etc.  Whether you need someone to hold you accountable, be there to push you past your comfort zone, or cheer you on, a personal trainer can do all that for you! 
You can read more about Four Seasons Personal Training and about our trainers here. Fill out our Personal Training Request today for a complimentary Personal Training consultation!