Posted January 25, 2021
Due to the most recent State of Illinois mandates we will enter Phase 4 mitigation effective Monday, January 25, 2021.
The clubs are open, however the following restrictions are in effect
MASKS ARE REQUIRED:

For entry & check-in
In shared spaces including locker rooms, pool deck, Childcare, lobby & hallways
When traveling thru the club
Masks are encouraged - but not required- when actively working out
The following services have resumed
In-person Group Fitness Classes - virtual classes will continue and in-person classes will be added to the schedule (aquatics fitness will begin 1/25). Class sizes will still be limited, so be sure to reserve your spot. Check MYiClub to book reservations for both virtual and in-person classes.
Group Swim Lessons - space available, register online! Classes start Monday 1/18
Small Group Personal Training
Karate
Basketball & Volleyball game play

Basketball Games: A maximum of 10 players can play a game at all times. Book a reservation for the East Court using your MYiClub account. Only 1 team member needs to make a court reservation. Up to two separate games can be played on East Court at a time with a maximum of 20 people on the entire court. Members who have a reservation on East Court will take priority. Those members who do not have a reservation on East Court will be asked to play elsewhere if capacity allows.
Volleyball Games: A maximum of 12 players can play a game on the available courts at all times. Book a reservation using your MYiClub account. Only 1 team member needs to make a court reservation. Members who have a reservation for the Volleyball Court will take priority. Members who do not have reservation on the Volleyball Court will be asked to play elsewhere if capacity allows.

Reservations for the courts are only for general play. If you want to hold practices for your teams you can do so at an additional cost. Please contact our Aquatics & Recreation Manager for more information.
Locker rooms & showers (saunas & steam rooms remain closed)
Party room & rental spaces available - click for details
Pool lap lane sharing
Reservations are required using your MYiClub online account.
We deeply appreciate our members and your continued support!
Please email information@4seasons-club.com if you need help accessing your MYiClub account.
---
Exercise is Medicine!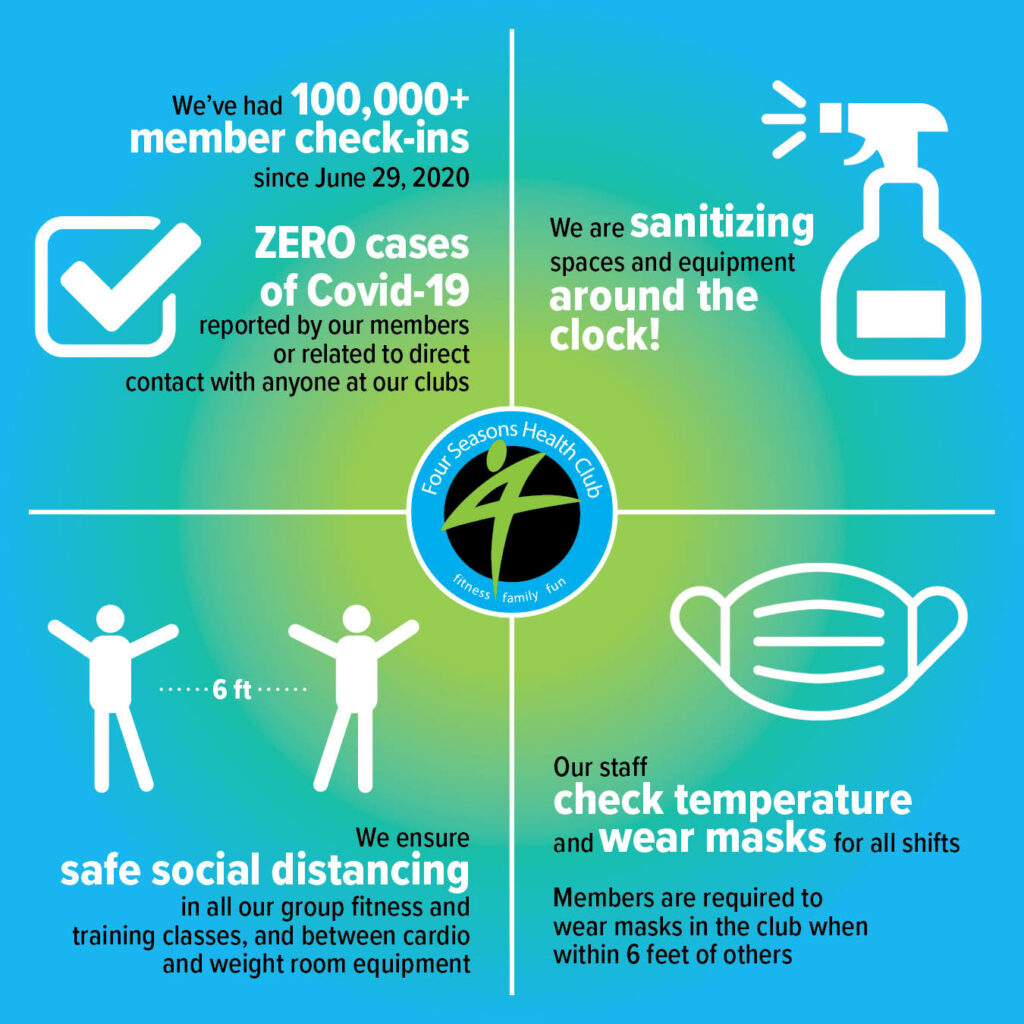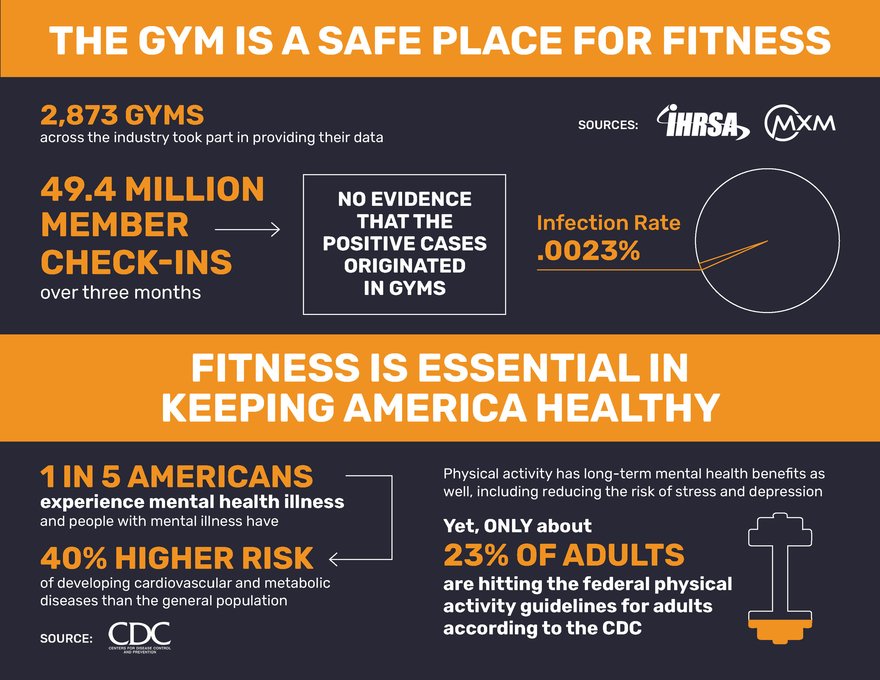 "Here's the bottom line: When it comes to Covid, the fitness industry isn't the problem, it's the solution. Our members make a conscious decision to improve their mental and physical health by working out." – Chuck Runyon
"It has become abundantly clear that the safety measures gyms, sports clubs and boutique fitness centers have in place are not only incredibly effective at keeping their membership safe but also curbing any potential spread of COVID-19 during a time when we all need access to exercise facilities to stay healthy." – Blair McHaney
"The data shows that, with proper sanitization protocols in place, people can safely return to their workout routines. Working out has never been more important to help boost immunity and improve mental health. It's time to acknowledge that gyms are safe." – Brent Darden
In ongoing efforts to protect our members and staff during the pandemic, we have updated our COVID-19 policy. This policy highlights the steps we are taking to the ensure the safety of all. 
Safety and Sanitizing Protocols
We have increased the number of hand sanitizers units throughout the gyms.
We have added more gym wipe canisters (anti-bacterial/virus wipes) and made them available everywhere.

 

We have added an Electrostatic Surface Cleaner to kill germs. We spray on all gym equipment and facility surfaces daily.
All staff are taking their temperature and signing off that they are symptom free and have not been exposed to anyone with symptoms.
Staff are required to notify their supervisor in the event of a potential exposure, symptoms or positive test.
Members and staff will be immediately notified in the event of a positive COVID case.
The clubs will be closed for 24 hours for cleaning and those in direct contact with the positive case will be notified.
Staff are required to follow strict quarantine protocols to proactively lower the chance of exposure to employees and members.
Your Role as a Member
To ensure the safety of our staff and limit the potential exposure of COVID, please note that at this time we are requiring members to wear a mask (when not actively working out) within 6 feet of a staff member. Masks are not required when actively working out or when practicing safe social distancing.
Please stay home if you have a temperature, a cough or are not feeling well – we are all in this together and need to protect each other.
Please wear your workout clothes to the gym so we can reduce traffic in the locker rooms.
Please thoroughly wipe down each piece of equipment you use. Individual spray bottles of disinfectant and cleaning towels will be available for members.
Practice physical distancing – 6 feet apart.
Check-in using touchless barcode scanner to be admitted into the club.
Check-in at the Front Desk is required for all classes and training sessions. Please arrive early to allow time for us to check-in all members prior to the start of class.
To reduce congestion at the front desk, please contact us via email, phone or appointment for non-emergency membership and account inquiries.
Amenities
Locker rooms and showers are open.
Childcare is open. Reservations are required using MYiClub Online.
Basketball courts will be open for individual shooting but all game play is suspended. 6-foot social distance required.
Volleyball, Badminton and Pickleball Courts will be available for singles matches or individual play only.

 

Racquetball Courts, Party Room, and Community Room will NOT be available until social distancing guidelines are lifted further.

 

The saunas & steam rooms are closed.
Weight equipment will be spread apart and only every other piece of cardio equipment will be open for use to encourage physical distancing.

 

Guests will NOT be allowed until operating at full capacity without mandated restrictions.
Programming
Group Fitness, SGT, PIT, Pilates Equipment and Karate:
Social distancing restrictions apply to class capacities. Members must register in advance for group fitness and training using MYiClub Online.

 
1-on-1 and Semi-Private Personal Training:
Private sessions for personal training will continue to operate with recommended social distancing measures in place.

 
Aquatics:
We are committed to offering the best member experience and safe spaces. Please note that as we adapt during this pandemic some services and offerings may be restricted or canceled to promote safety.