Quick Links
Pool
Swim Team
Swim Lessons
100 Mile Swim Challenge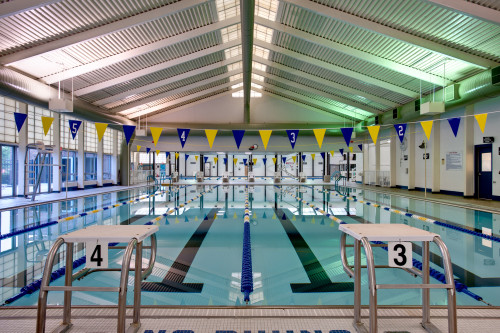 Four Seasons offers a unique aquatic facility to our members, featuring two indoor heated pools, a kiddie pool, and whirlpool. We offer a variety of aquatic programs for all ages, skill levels and interests. With the Learn-to-Swim Program, children will develop a life skill and learn to be safe around the water. Drop into a water aerobics class and experience the benefits and variation of a water workout. The North (leisure) pool is kept at a comfortable 86-88 degrees to accommodate child and adult swim lessons as well as water fitness classes.
The summer swim team is one of most popular youth programs, committed to developing a love of swimming in a positive and encouraging environment. To keep skills sharp year-round, the Polar Bear Swim Team is offered during the fall, winter and spring months.
Our lifeguards are certified through the Starfish Aquatics Institute Lifeguard Training Program. Certification classes are offered for an additional fee at various times of the year.
Lifeguard Hours
(Fall Schedule)
| | |
| --- | --- |
| Monday – Friday: |  5:00am – 12:00pm |
| Monday – Friday: | 4:00pm – 10:00pm |
| Saturday: | 5:00am – 8:00pm |
| Sunday: | 8:00am – 8:00pm |
Pool Schedules
100 Mile Swim Challenge
Challenge Dates: January 2 – December 4, 2015
Top Ten Results – Updated August 7, 2015
Total Results by Month – Updated August 7, 2015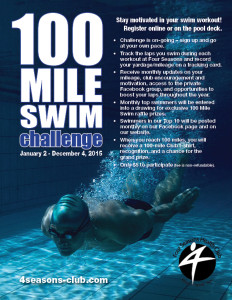 Swim Lessons and Workshops
Four Seasons offers a wide variety of quality swim programs for our members of all ages. Whether your baby needs an introduction to the water or your pre-school child needs to learn to swim, our youth swim program is the best in town. If you need to learn to swim as an adult, or just fine-tune your technique, you'll find our experienced and accommodating staff very knowledgeable and anxious to help you find your comfort in the water, or train to compete in triathlons. Private and semi-private lessons are affordable with wide availability to accommodate the busiest schedules.
All the Four Seasons Swim Instructors are CPR trained. With low instructor to student ratios you can be sure that your child will be well cared for in the pool and can learn at their own pace. In addition to the North (leisure) Pool, our South Pool is a 6-lane Lap Pool kept at a comfortable 80-83 degrees to cool down even the hardest working lap swimmer.
Group and Private/Semi-Private Swim Registration Schedule
**All lessons will begin on Monday, September 14th (8 Weeks)
Swim open registration begins Tuesday, Sept. 1 at 8:00 a.m. Please review the registration instructions below. (Click to enlarge).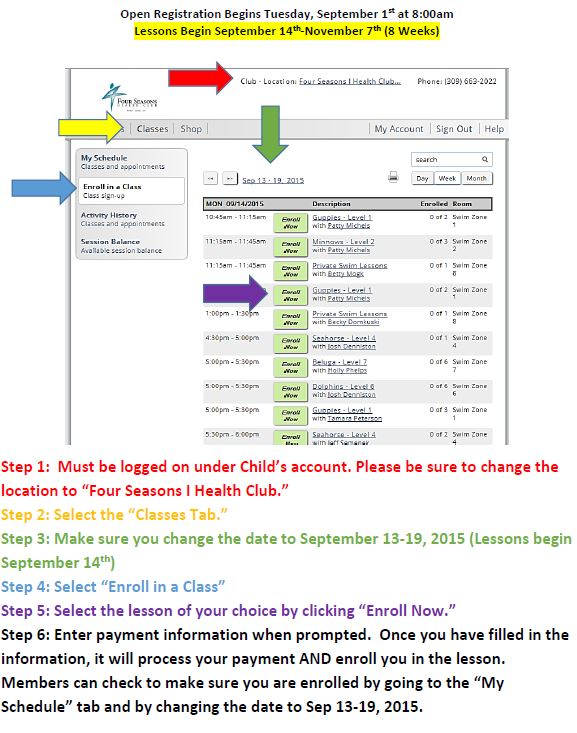 Fall 2015 Group Swim Lesson Schedule & Information
Priority Registration

This is for current session participants only
Renew same spot (day & time)
Must register at FSI ONLY

Monday, August 17th at 9:00 a.m. through Saturday, August 22 at 8:00 p.m.

Switch Registration

For current session participants only
Openings are first come, first served
Must register at FSI ONLY

Sunday, August 23rd at 8:00 a.m. – Saturday, August 29th at 8:00 p.m.

Open Registration

Tuesday, September 1st at 8:00 a.m.
Children's Group and Private Swim Lessons
Each participant/swimmer needs his or her own Myiclubonlin.com account if they are signing up during Open Registration (for instructions, see the Quick Links or visit the Front Desk at Four Seasons I). Classes are filled based on a first come, first served basis. Want to follow along with your progress and swim levels? Print out our Learn-to-Swim Skill Certificate from the Quick Links to keep track of the skills learned throughout your lessons. (Each swimmer will also receive this certificate at the end of each session).
Group Swim Lessons
| | |
| --- | --- |
| Session: | Sept. 14 (8 weeks) |
| Registration Fee: | $10.00/Swimmer |
| Status: | Closed |
Private/Semi-Private Lessons
Session:
Sept. 14 (8 weeks)
Status:
Closed
Summer Private
Swim Lessons:
Sept. 14 (8 weeks)
Status:
Closed
Private Lesson Cancellation Policy
If you have to cancel a lesson, please notify your instructor or the club at least 12 hours in advance in order to reschedule your lesson. Cancellations received with less than 12 hour notice will automatically be deducted from your lesson balance. Please contact the front desk at Four Seasons I (309-663-2022) or your individual instructor to cancel a lesson.
2015 Youth Lesson Pricing
| | |
| --- | --- |
| Youth Private Lesson Fee: | $12.00/Lesson |
| Youth Semi-Private Lesson Fee: | $10.00/Lesson/Swimmer |
Adult Group Classes and Private Lessons
Private lessons, semi-private lessons or personalized coaching are available to help you reach your swimming goals (13 years and older).
2015 Adult Lesson Pricing
| | |
| --- | --- |
| Adult Private Lesson Fee: | $15.00/30-Minute Lesson |
Adult Swim Clinics
Adult Swim Clinics are offered at no extra cost to Four Seasons members.
*Class tickets for all adult swim clinics follow the Group Fitness Policies.
Beginner Adult Swim
Adults will start with learning front and back floats, beginning swim strokes, and building comfort in water. Build your skills in a small group (maximum 4 adults), while learning the fundamentals of freestyle and other stroke coordination.
Beginner Adult Swim Schedule: Follows the Group Swim Lesson Schedule
| | |
| --- | --- |
| Wednesday | 12:00-12:30 p.m. |
| Friday | 10:15-10:45 a.m. |
Tri4Beginners
Learn what it takes to train for one of the fastest growing sports in the US. This introductory workshop will consist of a brief explanation of triathlon swim rules and regulations, a quick evaluation to determine comfort level and a short workout. Instructors will provide stroke technique feedback throughout the session. Capacity: 6 adults. Schedule will be available soon.
Swim Team
The Four Seasons Swim Team believes in giving every swimmer a chance to participate. The success of each swimmer is measured by the improvement in their personal times and enjoyment of the team, not by how they perform against teammates or another team. We offer year-round swim team programs for continuous opportunities to fine-tune competition skills and there is an additional fee to participate in these programs.
Summer: Stingrays Swim Team
Practices begin late May and finish late July. Stingrays Swim Team is part of the Twin City Swim Conference, and the swim meets are scheduled with other teams that are members of the same conference. There may be additional swim meets scheduled at the coach's discretion.
Register for the 2015 Stingray Swim Team online.
2015 Stingray Swim Team Program Dates
| | |
| --- | --- |
| Stingrays Open House | Tuesday, May 5, 2015: 6:30-8:00 p.m (Four Seasons I) |
| Swim Season Start Date | June 1, 2015 |
2015 Stingray Swim Team Program Fees
| | |
| --- | --- |
| First Swimmer: | $75.00 |
| Additional Swimmer in Family: | $40.00 |
| One-on-One Coaching Lessons: | $15.00/30-Minute Lesson |
Fall, Winter & Spring: Polar Bear Swim Team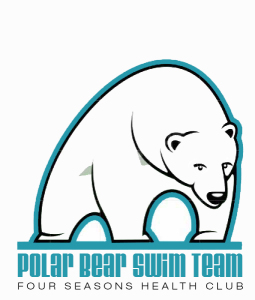 The Polar Bear Swim Team offers experienced and encouraging coaches. The Polar Bear Swim Team attends events, meets and diving clinics. There are multiple sessions available and expanded practice times with flexible practice days.
Registration: Open until Friday, August 28 (online and in person at Four Seasons I).
2015 Polar Bear Swim Team Program Dates
| | |
| --- | --- |
| Winter 2015: | January 12 – March 5 |
| Spring 2015: | March 30 – May 21 |
| Fall 2015: | September 14 – November 5 |
Please Note: We will be hosting a testing day on Monday, August 24th from 5:30 pm – 7:00 pm in the South Pool. This is not a requirement to signing up.
Fall 2015 Polar Bear Schedule: Monday-Thursday in the South Pool
| | | |
| --- | --- | --- |
|  Group 1 |  (5-8 years) |      5:45-6:30 p.m. |
|  Group 2 |  (9-10 years) |      6:30-7:30 p.m. |
|  Group 3 |  (11-12 years) |      7:15-8:30 p.m. |
|  Group 4 |  (13-18 years) |      7:15-8:30 p.m. |
2015 Polar Bear Swim Team Fees: Registration Closed
| | |
| --- | --- |
| One Swimmer, 1 Session Commitment (Fall Only): | $30/Session |
| | |
If you have questions about the pool, lifeguards or aquatic programs please contact our Aquatics Manager, Samantha Fleming, at Samantha@4seasons-club.com or by telephone at 309-663-2022 ext. 123.