Membership at Four Seasons Health Club not only includes two facilities to workout out whether you are looking to swim, play basketball, hop on a cardio machine or weight lift, at Four Seasons, your membership comes with much more. Your membership types can include: free childcare services for up to 2 1/2 hours (while parent is in the facility), group fitness classes, Rewards4You Member Loyalty Program, marketing opportunities, free rentals for locks, volleyballs and basketballs,
and a friendly, welcoming staff who will get to know you and your
family by name. 
Rates
With no contracts to sign or termination fees, Four Seasons makes it affordable to achieve a healthy lifestyle for you and your family. We provide membership rates for several different types of memberships in addition to several payment options, knowing that each member's needs are unique.
Ready to join our community? Come to the Front Desk at either location during business hours to get signed up for a complimentary one-week trial or your own membership – or call the Front Desk during business hours for any questions about membership you may have!
FIT Together is a senior program, 65+ through OSF Healthcare. Click Here for FIT Together details.
*A one time enrollment fee of $55 is charged at the time of registration.

Categories
Four Seasons offers several different types of memberships to fit all needs. From Private Single to Corporate Retiree, we have a membership for all types of individuals and families.
If you aren't sure which membership category you fall under, contact the Front Desk at either location today and let us help you identify which rate category you fall under. If you're interested in becoming a Corporate Sponsor or connecting the company you work for to become a sponsor, please visit the Corporate Sponsor page where you will find additional details.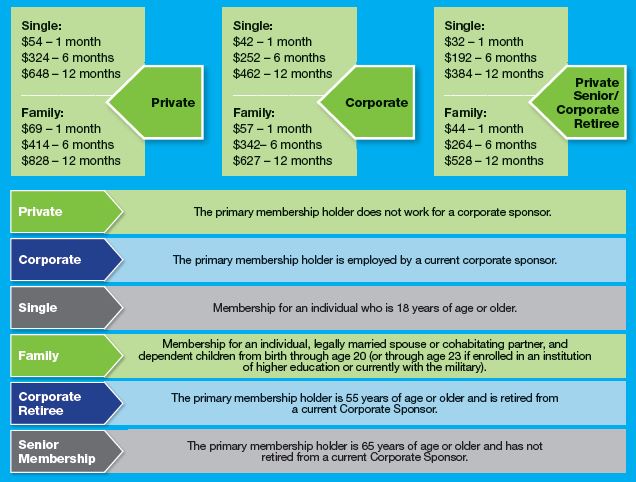 Member Benefits
Four Seasons is not just a facility to workout at; we pride ourselves on being a club that provides our members with unmatched benefits including:
140+ COMPLIMENTARY group exercise classes every week
Childcare services (with family membership only)
Group swim lessons
Personal Training services (additional fee applies)
COMPLIMENTARY hand & bath towels to be used within the facilities
Rewards4You Member Loyalty Program
Free Mobile app
Welcoming, family-friendly atmosphere
Discounted services in the PIT Strength
and Conditioning Facility