Four Seasons is proud to offer a unique aquatic facility to its members, featuring two indoor heated pools, a kiddie pool, and whirlpool. We offer a variety of aquatic programs for all ages, skill levels, and interests. With the Learn-to-Swim Program, children will develop a life skill and learn to be safe around the water. Drop into a water aerobics class and experience the benefits and variation of a water workout. The summer swim team is one of most popular youth programs, committed to developing a love of swimming in a positive and encouraging environment. To keep skills sharp year-round, the Polar Bear Swim Team is offered during the fall, winter and spring months. Our lifeguards are certified through the Starfish Aquatics Institute Lifeguard Training Program. Certification classes are offered for an additional fee at various times of the year. Click here for 
2014 Lifeguard Classes
POOL & LIFEGUARD SCHEDULE
August 24 – September 1 – North Pool & Baby Pool Closed for Maintenance
Click here for flier: North Pool & Baby Pool maintenance
Thank you for your patience!
LIFEGUARD HOURS
Summer & School Break Hours  (late May – mid August & school "off" days) 
Monday – Friday: 7:00am – 10:00pm
Saturday & Sunday: 10:00am – 7:45pm
*Please check with the front desk on days off of school for lifeguard hours
School in Session Hours (mid August – mid May)
Monday – Friday: 8:00am – 12:00pm & 4:00pm – 10:00pm
Saturday & Sunday: 10:00am – 7:45pm
Please refer to 2014 Pool Rules & Acceptable Toys for pool policies and age restrictions for unguarded pools.  
WATER FITNESS  The buoyancy of water reduces the "weight" of a person by about 90%, which means that the stress on weight bearing joints, bones and muscles is similarly reduced. For this reason, water workouts rarely result in injury or leave you with sore muscles. That's why the pool is such a great place for people with arthritis or back problems to exercise. It is also great for those who are new to exercise. Four Seasons I currently offers 15 water fitness classes per week for our members of all different fitness levels, including Ultimate H2O, Deep H2O, Aqua Combo and Aquabata! Water exercise can encompass all of the components of fitness: cardiovascular fitness, muscular strength, endurance, and flexibility. When done regularly, water exercise can help reduce body fat. The water fitness classes at Four Seasons I use additional equipment, such as H2O dumbbells, H20 belts, and noodles to increase the resistance for a more intense workout. To quickly locate the water classes listed on our group exercise schedule, access our current online Group Exercise Schedule by clicking HERE. Select "H2O" in the category filtering option located on the top right-hand corner to view all the water fitness classes.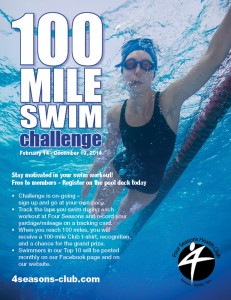 100 Mile Swim Challenge Top 10 – July
100MSC Totals – Feb 14-July 31 2014
Contact Aquatics Michelle Bernardi: michelle@4seasons-club.com