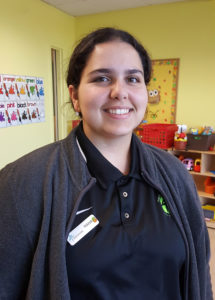 CHILDCARE STAFF SPOTLIGHT
Name: Rana Abbed
BLONO native? No, I am actually from Toulon, IL.
Tell us a little bit about you and your family…
I am 17 and a senior at NCHS. I would like to become an engineer in the future. I have two sisters and one brother…Hana is at U of I, Lilian is in 8th grade at Evans and Omar is at NCHS with me.
What experiences do you have working with kids? I have babysat many children before coming to Four Seasons.
What are three words that describe you? Nice, sweet and responsible.
When you're not at Four Seasons Childcare, what are you most likely doing (your hobbies)? Attending high school football games or hanging out with my sisters.
Name one thing on your bucket list? I'd love to see the Northern Lights someday!
What do you like MOST about working in Four Seasons Childcare? I like the family atmosphere that Four Seasons provides.