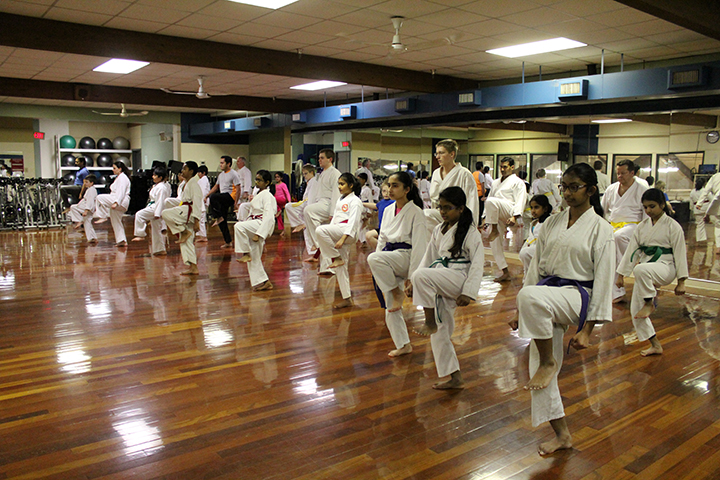 Many parents find it challenging to keep their kids active while school is out.  If not directed away from the television, video games, and their ever-present smartphones, children can develop unhealthy physical and mental behaviors that can quickly become habits.  Last December, I answered common questions about Four Seasons' karate program in general, but summertime provides an opportunity to review some of karate's benefits specifically for children.
There is no "Karate Season" – Most athletic activities are "seasonal." Putting your children in baseball, football, or soccer keeps them busy for a few months, but then you're left looking for another activity when the season is over.  Karate has no "season" – you can practice karate all year, regardless of weather, without having to change your schedule every few months.
No one is "picked last" – Most team sports suffer from the same "bench warmer" paradox. If the coach plays to win by fielding the best players, the "bench warmers" never get the experience they need to become the best players. But, if the coach plays everyone, those same "bench warmers" feel responsible when performance suffers.  In karate, there is no "bench."  Everyone practices together but is judged  No one's performance (good or bad) affects anyone else's results.
Karate doesn't care about your gender – Like it or not, most sports continue to be gender-specific – football is "for boys" and volleyball is "for girls", but karate is for everyone. Ironically, even parents who balk at putting their daughters in karate feel better knowing they're equipped to defend themselves.
Karate doesn't stop after graduation – Taking football as an example, many children play summer league football and a few may continue to play in high school, but that's it. Only a handful will continue playing in college and adult football leagues are the exception to the rule.  By contrast, it's not uncommon to continue practicing karate throughout one's adult years.
Karate can be a "together" activity – You can't join your child's soccer team, but we have several parents who practice karate with their children. It can be intimidating for a child to begin a "together" activity with a parent who is already good at it, but karate provides an opportunity for an equal playing field – you're both beginners.
Karate teaches courtesy, discipline, humility, and patience – Karate isn't just about learning to punch, kick, and block. Students learn that they can be upset, but they must still be courteous.  They learn that "rules" are there for everyone's benefit and must be obeyed even if it's inconvenient.  They also learn that nothing worth having comes immediately, or without effort.
If you're interested in having your child join karate (or in joining yourself), feel free to stop by and observe class, or participate in a free demo class.  If you like what you see, we'd be happy to have you.  Children aged 6-8 practice on Monday or Wednesday night from 4:45 – 5:25 pm.  All students aged 9+ practice Monday and Wednesday from 5:30 – 6:50 pm, and on Saturday mornings from 10:15 to 11:15.  All classes are held in the fitness studio at Four Seasons 1.  If you have any questions, any of our instructors will be happy to assist you, or you can contact us at karate@4seasons-club.com. Parents and children aged 9+ may practice together.