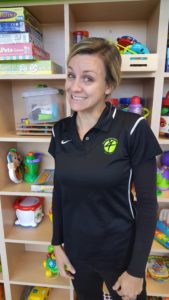 Childcare Staff Spotlight on DEANNA SILVEY
BLONO NATIVE? No…originally from Utah!
TELL US A BIT ABOUT YOU AND YOUR FAMILY… My husband and I met playing soccer in college at a small school in Iowa. We moved to BloNo so my husband could coach soccer at Illinois State. He is entering his first season as the head coach after being an assistant for two seasons.  We have three beautiful children: Donovan (10), Chamae (6) and Anson (1). I am currently working on my group fitness instructor certification!
WHAT EXPERIENCES DO YOU HAVE WORKING WITH CHILDREN? I'm the second of six children, so I have been helping to care for children since I was a child myself. I have an AA degree with an emphasis in elementary education and I was a stay-at-home mom for nine years before I came to work at Four Seasons.
WHAT ARE THREE WORDS THAT DESCRIBE YOU?  Caring, easy-going…and awesome (according to my kids and husband!)
WHEN YOU ARE NOT WORKING IN CHILDCARE, WHAT ARE YOU MOST LIKELY DOING? Watching ISU soccer games, jogging/working out, taking care of my own kids & home, reading or watching Netflix.
NAME ONE THING ON YOUR BUCKET LIST…Traveling to Spain with my husband to take in the sights and watch Lionel Messi play in real life.
WHAT DO YOU LIKE MOST ABOUT WORKING IN FOUR SEASONS CHILDCARE?  Hanging out with the adorable kids and listening to the hilarious things they come up with!