Janel Sebeny is a wife and mother of three — two teens and a toddler. She is a middle school teacher and an R+F Consultant. She is a Four Seasons Health Club member. Janel is also a breast cancer survivor.
In honor of Breast Cancer Awareness month, survivors among us and those currently fighting, Janel shared her story with us…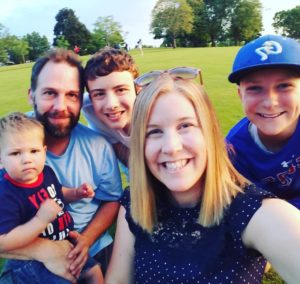 Janel was diagnosed in 2015, just three days after her wedding. Following a workout, while taking off her sports bra she noticed a spot on her breast was harder than usual. "I was thinking maybe I was just gaining muscle since I had been working out quite a bit. However, I was unsure since it was A) on my breast and B) seemingly isolated in one spot. I did not have any other symptoms, in fact, I was in the best shape of my adult life," Sebeny shared.
At the age of 38, she would not have had a mammogram for another couple of years. The American Cancer Society recommends women of average risk for breast cancer to get a mammogram every year from age 45-54. Women of average risk have the option to start screening annually from age 40-44. A woman is considered to be of average risk is she does not have a personal history of breast cancer, a strong family history of breast cancer, or a genetic mutation known to increase the risk of breast cancer.
Janel's grandmother and cousin both had breast cancer, but genetic testing did not flag her as having breast cancer genetically. "It is a puzzle to me, but I feel like I have been more aware of environmental factors as a result," she explained. "I strongly encourage self-exams and general awareness about your body," Sebeny added.
She scheduled an appointment with her doctor for the next day.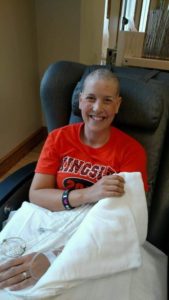 After her diagnosis, treatment plans were made under the care of Community Cancer Center in Normal. Her treatment process included 8 rounds of chemo, a double mastectomy, and reconstruction. The process did not stop there. "At that time, they put in spacers to expand the breasts. I also had a good amount of lymph nodes removed. After that healed, I had about 25 days of radiation. Then, one of my spacers had an infection, so that delayed my final reconstruction surgery, which took place about a year later. From there, my body slowly recovered."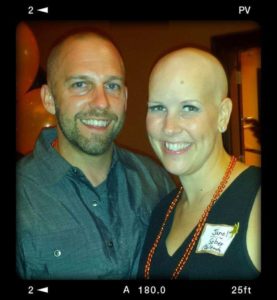 For Janel, life after breast cancer went on with a happy surprise. "Soon after my body made a full recovery, I discovered I was expecting. I was so thankful I did not begin taking the medication I was supposed to take. I decided I would maintain cancer-free with diet and exercise and try to detox from all the chemicals and radiation my body endured. I had a fairly healthy pregnancy and Mason is thriving at almost two years old. Life now is busy with two teens and a toddler! I am thankful to celebrate birthdays instead of thinking I am getting old. I feel so incredibly blessed," she shared.
Maintaining a healthy lifestyle continues to be a #1 priority for Janel and her family. "I joined Four Seasons last spring so that I would not only benefit from using the gym but also my kids could see the value in having healthy bodies. Not just physically… mentally and spiritually too. I like that Four Seasons offers mind and body classes as well as fitness ones," Sebeny told us.
Although she's recovered, breast cancer is still a part of Janel's life as she maintains an active Facebook group called Janel's Warriors. The group was started when she found herself overwhelmed by the amount of support she received while facing breast cancer. "These people became my "warriors". Instead of updating each person individually among my family, friends, co-workers, and church group, a couple of my friends started a Facebook group for me. This way, it could be posted in one place. From there, it became a place for me to journal and explain how I was feeling along the way," Janel explained.
Now the group serves a new purpose — offering encouragement and support to others. "I encourage women to do self-exams and hold each other accountable for mammograms and regularly scheduled exams at their gynecologists, too. If this is something you are facing, rely on your support system and know you don't have to do this yourself. I believe sharing my experience can offer hope and encouragement to others. Give yourself permission to rest and recover. It takes time to heal, and then you will find your new normal."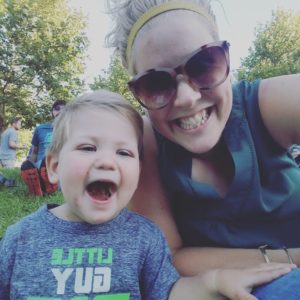 Supporting women, raising a family, living a healthy lifestyle, and more… Janel is truly an inspiration. "Some say they are living their best life; I say, I have been given the opportunity to live life to the fullest," she told us… and she absolutely is!
Thank you, Janel for sharing your story with us!