We understand that accomplishing your fitness goals maybe difficult to do alone. One of the ways we can help you succeed is to pair you with one of our Certified Personal Trainers to provide expertise in program development, proper technique and encouragement to help you identify and accomplish your fitness and wellness goals.
Our Certified Personal Trainers evaluate every level of fitness for clients (ages 9 and up) to develop an individualized workout plan focused on proper technique and form, injury prevention, and achieving optimal fitness.
Benefits of Personal Training
Accountability and Motivation
Development of an Individualized Workout
Expert Opinion on Fitness
Consistent, Non-Judgmental Support
Proper Technique and Form
Injury Prevention and Rehabilitation
Sports Specific Training
We offer several forms of personal training in addition to monthly payment plans and package payment options. You will get results!
Monthly payments are designed to save you money. This option allows you to choose from 1 to 3 sessions per week and withdraws monthly payments from your bank account until you choose to cancel. This monthly option does not require a bulk payment up front, making your fitness more convenient and affordable.
Private Personal Training (One-on-One)
A Certified Personal Trainer will provide expertise in program development, proper technique and ongoing motivation in order for you to accomplish your health and fitness goals.
Monthly Payment Rates:
1-Hour Sessions starting at $35
30-Minute Sessions starting at $19
Package Rates (We offer a variety of package options):
1-Hour Sessions starting at $40
30-Minute Sessions starting at $23
Semi-Private Training (2 participants)
Grab your best friend, spouse/partner, co-worker or neighbor and help motivate each other through personalized instruction with a Certified Personal Trainer. Both participants must agree to workout together at the same time and place. Each participant will receive his/her own personalized program through a variety of solo and paired exercises.
Monthly Payment Rates:
1-Hour Sessions starting at $24 per person/per session
Small Group Personal Training (3 or more participants)
Whether you are a beginner, an avid fitness enthusiast, or just tired of the same routine, come try Small Group Personal Training at Four Seasons. Small Group Training (SGPT) is designed for individuals that want a personalized training experience and are willing to share time and costs of a certified Personal Trainer.
The structure of SGPT allows you to take full advantage of our expert training staff and train in a team environment that promotes motivation, accountability, and RESULTS. Each workout is designed to increase your functional strength, reduce injuries, and boost your metabolism. Participants will experience a variety of strength building circuit-type intervals that combines weightlifting movements; plyometrics/cardio, core work and stretching. Join one of our scheduled classes, or grab a few friends and build your own class!
Our new flexible class scheduling allows you to register for a preferred session, but when life gets in the way, allows you to attend any session offered in the same week.
Monthly Payment Rates:
1-Hour Sessions starting at $12 per person/per session
HHQ
Four Seasons Trainers and Staff pride ourselves on our commitment to the health and safety of our members. For this reason, we require every member who wishes to participate in an additional Personal Training to fill out a Health History Questionnaire (HHQ) prior to starting any session. This form identifies risk factors for cardiovascular disease and injury, and will indicate if obtaining a physician clearance is necessary based on current and previous health status. Find the HHQ at the Front Desk of either location, or in the Quick Links below.
Contact Josh Kauten at 309-661-8611 ext. 225 or email him at Jkauten@4seasons-club.com for more information about training today!

Trainers
Liz Adams
Certification: AFAA
Education: B.A. in Psychology
Specialty: General Fitness, Stronger, WERQ
Liz enjoys working with people who are beginning their fitness journey and want more guidance than a group fitness class provides. Liz will meet with you to discuss your goals and the ways that will work for YOU to meet those goals.
You can expect to work all muscle groups and also get your cardio in when you meet with Liz.
"My Personal Trainer (Liz) understands me well and provides me with necessary motivation and guidance that is needed to continue pursuing my exercise routine." – Vipul Agarwal
View all Personal Trainers
Steve Keist
Certification: AFAA
Education: N/A
Specialty: Core Strength, Kickboxing, Fat Loss Workouts
Steve has been into physical fitness for 34 years. His philosophy is to endure the pain, keep going, push hard, give your maximum, love and enjoy it – make it part of who you are.
With Steve, you can expect to workout in ways that will challenge and improve you mentally and physically.
"Steve is an incredible trainer! The results I have got with him were beyond what I had hoped for. He taught me sustainable fitness options!"  – Heather Cushing
"Steve had helped improve my quality of life. I feel better and look better." – Richard MacMinn
View all Personal Trainers
Jim Casino
Certification: ACE
Education: N/A
Specialty: General conditioning; Strength training; Small group fitness classes
Jim has been a life-long fitness enthusiast. He incorporates a combination of strength and endurance exercises to help clients reach their fitness goals and prepares them to live a physically active and healthy lifestyle. He enjoys working with individuals of all ages and offers personal training sessions for individuals and small groups.
Working with Jim, you can expect to see total body strength and endurance progress. He focuses on teaching proper training techniques and functional movements, for safe and effective training.
"I have found that strength training and  proper nutrition are key components to include in every training program in order to maximize results. I look forward to sharing my knowledge and passion to motivate individuals to achieve their personal fitness goals."
View all Personal Trainers
Hilary Hobler
Certification: ISSA Personal Training, Strength and Conditioning Specialist
Education: B.S. Physical Education/Kinesiology minor Athletic Coaching
Specialty: Strength training, High Intensity Interval Training, General Conditioning, muscle building, weight loss
Hilary was a 3-sport athlete at Lincoln Community High School, in Lincoln, Illinois. She played volleyball, ran track and participated in competitive cheerleading. After graduating, she went on to Illinois State University to continue her love of track at the Division 1 level. This Redbird loves working with people of all fitness levels, implementing individualized strength and endurance workouts. Hilary believes in teaching proper technique while keeping the workout interesting and challenging.
You can expect Hilary to inspire and help motivate you to attain your health and fitness goals!
View all Personal Trainers
Kelsey Kaiser
Education: B.S. in Exercise Science
Kelsey was a three sport athlete growing up in the small town of Lexington, Illinois playing volleyball, basketball and track. After graduation Kelsey continued her love of running at Southern Illinois University while also obtaining a major in Exercise Science. Kelsey enjoys working with a variety of individuals to help them meet a variety of goals.
You can expect a program designed for you that will be challenging while focusing on core strength and balance.
"Your body is not giving out, your head is giving up.  Keep going!" 
View all Personal Trainers
Jessica Schauls
Certification: Pilates Reformer 1, Balanced Body; Pilates Mat 1, Balanced Body; Certified Yoga Instructor, Yoga Alliance; Certified Health Coach, Institute of Integrative Nutrition; Certified Personal Trainer, NASM
Education: B.A. in Human Development and Family Studies
Specialty: Pilates, Yoga, Nutrition, Strength and Conditioning
Jessica was a Division 1 Varsity Soccer Goalkeeper at University of Connecticut (UCONN). She was also a United States National Team (Pool) Soccer player in 2006 and NSCAA All-America 2007. Her philosophy is "to meet people where they are at" whether you are looking to increase your athletic performance or lose weight, to work specifically to tone your body or correct body imbalances, or to improve your overall quality of life through exercise and healthy living.
Working with Jessica, you can expect to set and accomplish goals in a way that empowers and excites you.
View all Personal Trainers
Aaron Patterson
Certification: NSCA-CPT
Education: B.S. Communications (minor in Business Administration)
Specialty: Sports Performance, Strength Training, Endurance/Race Training, High Intensity Interval Training, General Fitness
Aaron has worked around athletes his entire career, specifically at the high school and collegiate level. As a trainer and strength coach at Parkland College (Champaign, IL), he worked with the men's basketball team and men's golf team where, during the 2014 season, the Cobras golf team won the Mid-West Athletic Conference and Region 24 titles before placing 10th as a team at the NJCAA Division II national tournament. In addition, Aaron has trained high school athletes including volleyball, baseball, basketball, and soccer. Inspired by his own 75-pound transformation and a passion for helping others, he has also found success working with general populations in the areas of strength training, fat loss, balance, stability, and corrective exercise. Aaron is working toward his M.S. in Exercise Physiology and CSCS certification.
With Aaron, you can expect injury reduction and functional movement training with the goal of ensuring long term health and fitness, and an improved overall quality of life.
View all Personal Trainers
Elaine Davis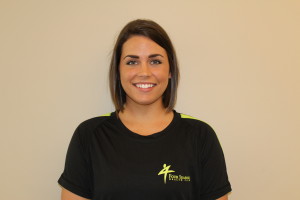 Certification: NASM
Education: N/A
Specialties: General Fitness, Strength Training, Interval Training
Elaine has always been passionate about helping others, as well as health and fitness. Growing up she participated in gymnastics, volleyball, and track. After high school she began pursuing a degree in elementary education to follow her passion for helping others. With encouragement from her family, she decided to combine her passions and pursue a career in personal training alongside her education degree. Elaine is excited to work with individuals from a variety of backgrounds and help each one to reach their specific goals. She is extremely positive and will motivate and encourage you to be the best version of yourself that you can be.
View all Personal Trainers
Lauren Foster
Certification: ACE
Education: B.S. in Psychology
Specialties: N/A
Lauren is a life-long fitness lover and wants to share her passion with others. No matter your goals, she will provide you with efficient and effective workouts to achieve them. As a mother of two, she can help you find ways to build physical activity into your life – even if you feel you don't have the time. If you are just starting out on your fitness journey, Lauren can help you learn your way around the gym. If you are seeking to maximize the work you are already putting in, she can help motivate you to see further results.  Lauren combines her unique background in psychology and physical fitness to create a complete wellness experience unlike any other which is guaranteed to lead to a healthier, happier version of you; physically, mentally and emotionally!
View all Personal Trainers
Corey Brubaker
Certification: NSCA-CPT
Education: Associates of Science in Kinesiology
Specialties: Functional Movement Training, Overall and Sport Specific Strength and Conditioning Training
Corey believes all people are movers. It is his goal to help every client become the most efficient mover possible. He enjoys helping people set and accomplish meaningful goals. Whether your goal is to become a better basketball player or just to be able to play with your grandkids, he is ready to meet with you and make your goal a reality!
"Your health and quality of life are priceless! I will help you work hard today and invest in your future."