Swim Lessons
Four Seasons offers a wide variety of quality swim programs for our members of all ages. The North (leisure) pool is kept at a comfortable 86-88 degrees to accommodate child and adult swim lessons as well as water fitness classes. Whether your baby needs an introduction to the water or your pre-school child needs to learn to swim, our youth swim program is the best in town. If you need to learn to swim as an adult, or just fine-tune your technique, you'll find our experienced and accommodating staff very knowledgeable and anxious to help you find your comfort in the water, or train to compete in triathlons. We teach hundreds of new swimmers every year. Private and semi-private lessons are affordable with wide availability to accommodate the busiest schedules.
One of our best reasons for our success is our staff. Many of our swim instructors have been with us for many years now and all are CPR trained. With low instructor to student ratios you can be sure that your child will be well cared for in the pool and can learn at their own pace. In addition to the Leisure Pool, our 6-lane Lap Pool (South Pool) is kept at a comfortable 80-83 degrees to cool down even the hardest working lap swimmer.
CHILDREN'S GROUP & PRIVATE SWIM LESSONS
Enrollment for group lessons is by lottery registration only. Forms are available online or at the front desk at both locations. Lottery registration is on pre-determined dates. All children's lessons follow pre-determined session dates.
UPCOMING REGISTRATIONS:
Holiday Session 2014 Group Swim Lessons – Accelerate
November 10 – November 20, 2014 – 2 week session
Swimmers attend Monday through Thursday for two weeks.
$10.00 registration fee per swimmer
Registration – Monday, October 27 at 12:00pm – in person only at Four Seasons I
Holiday Accelerate Schedule – November 2014
Holiday Session 2014 Private/Semi-Private Swim Lessons
November 3 – December 20, 2014
*No lessons 11/24/14-11/30/14
$10/lesson (Private) & $8/person per lesson (Semi-Private)
Registration – Monday, October 27 at 12:00pm – in person only at Four Seasons I
Holiday 2014 Private Lessons Schedule
CURRENT SESSION INFORMATION:
Fall Session 2014 Group Swim Lessons
September 8 – November 1, 2014

Fall Session 2014 Private/Semi-Private Swim Lessons
September 8 – November 2, 2014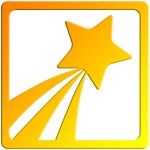 Help us pursue excellence and fill out our Aquatics Program Survey. 

FUTURE SESSION INFORMATION:
Winter 2015 Group Swim Lessons
January 12 – March 7, 2015
Lottery Registration: November 17 – December 5, 2014
Lottery Results posted Thursday, December 11th after 10:00AM
ADULT GROUP CLASSES & PRIVATE LESSONS
Adult Private Swim Lessons
Private lessons, semi-private lessons or personalized coaching are available to help you reach your swimming goals. 2014 Adult Private Lesson Fee: $10.00 per 30 minute lesson.
Adult Private Lesson Request Link
Adult Swim Clinics
Swimming for Beginners
Start with learning front and back floats, beginning swim strokes, and building comfort in water. Build your skills in a small group (maximum 4 adults), while learning the fundamentals of freestyle and other stroke coordination. Class tickets available on a first come, first served basis.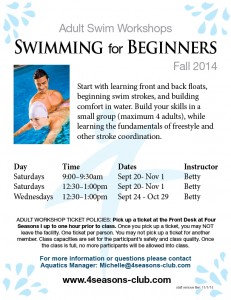 Triathlon for Beginners -
This workshop will consist of stroke refinement, swimming with confidence, proper breathing techniques, and overall triathlon swim rules. Triathlon workshops build on previous sessions. It is very important to attend all four sessions. Capacity: 6 adults Class tickets available on a first come, first served basis.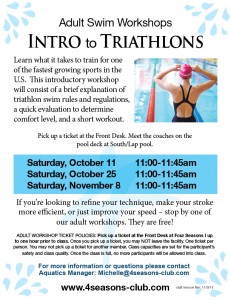 ADULT WORKSHOP TICKET POLICIES: Pick up a ticket at the Front Desk at Four Seasons I up to one hour prior to class. Once you pick up a ticket, you may NOT leave the facility. One ticket per person. You may not pick up a ticket for another member. Class capacities are set for the participant's safety and class quality. Once the class is full, no more participants will be allowed into class.
Stay motivated in your swim workouts and join our 100-Mile Swim Challenge. Chart your laps in the Four Seasons' pools and go at your own pace! When you reach 100 miles, you'll receive a special "100 Mile Club" t-shirt and a chance at the grand prize.