Holiday Hold 'Em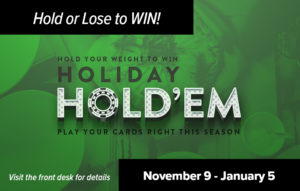 Maintain or lose weight and you will be entered to WIN the cash prize!
(Final prize amount dependent upon number of participants. Winner to be selected in blind drawing of eligible participants.)
• $20 for your chance to WIN!
• The more participants, the bigger the prize!
•Preliminary InBody Weigh-In in The PIT: November 9, 10, 11 or 12
• Final InBody Weigh-In in The PIT: January 4 or 5
(Check Front Desk for weigh-in times available on these dates)
• Open to Four Seasons and PIT members only – age 18+
• WINNER announced January 7!
Half of entry fees will be donated to Children's Home & Aid
Half will go to the WINNER!
Register at the Front Desk by Nov 12