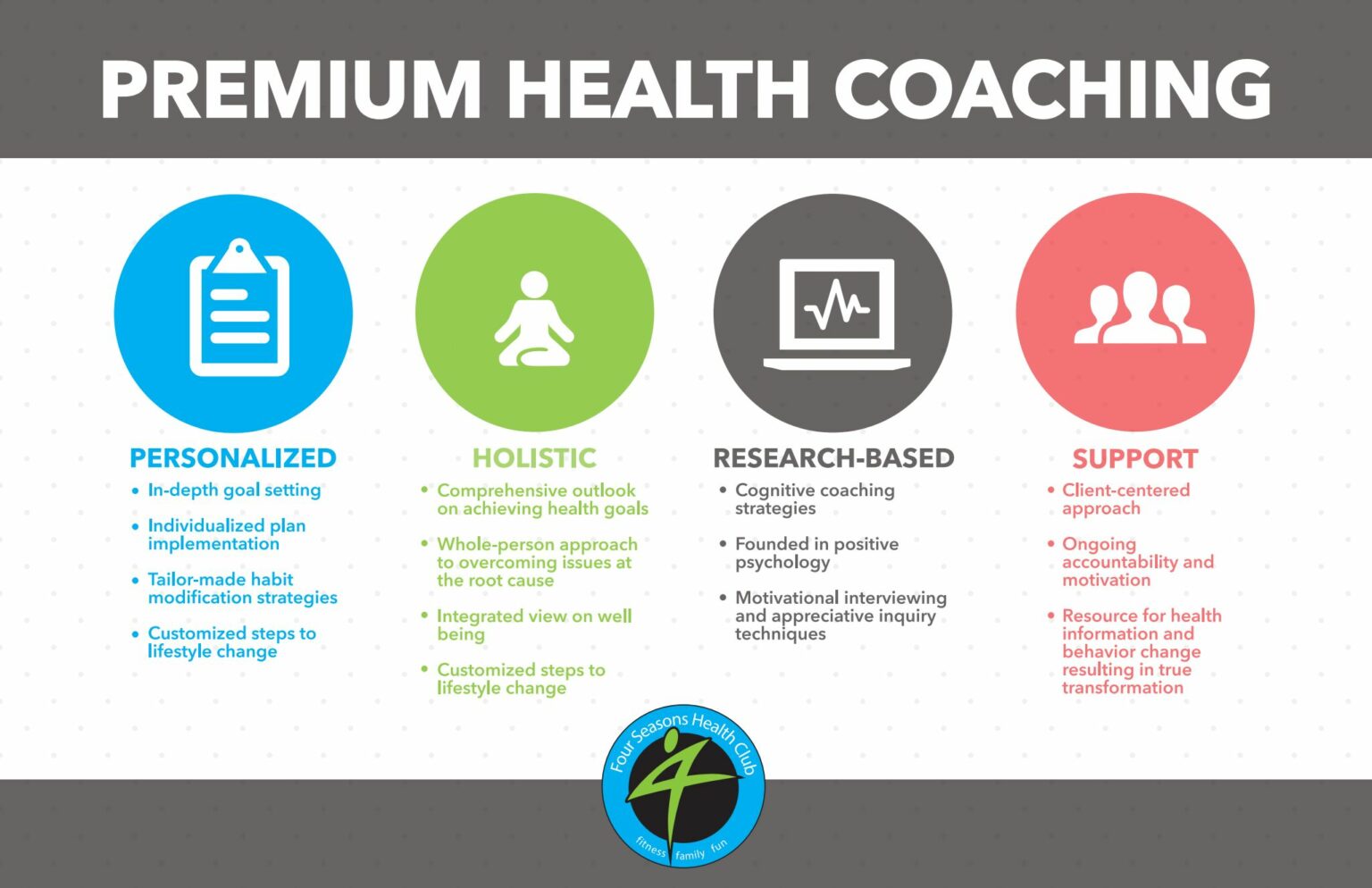 Here at Four Seasons, we believe in the power of approaching your health and wellness goals holistically. This means, we know there's more to lifestyle changes than coming in for a great workout or class. By partnering with a certified Health Coach you can hit your health goals from all aspects getting support with:
Nutrition
Sleep habits
Stress
Medication and medical issues
Lifestyle habits and routines
Sound good? Read on to learn about health coaching and our options at the club!
What exactly is Health Coaching?
Health Coaching is a way to collaborate with a trained professional on how to create realistic and sustainable healthy lifestyle changes. When working with a health coach, unlike some other health and fitness experts, it is more of a partnership in which the client does more of the leading; the client sets the pace and focus area of the desired healthy behavior change, rather than the health coach telling the client when to do what.
Together, the health coach and client come up with strategies to implement small changes to reach the client's chosen goals. In addition, they partner on discovering and problem solving through the barriers that
come up when trying to achieve the desired changes. Health Coaches also offer encouragement, education when necessary, and act as a guide to the client while they navigate their health journey.
Think of a health coach as your personal guide on this journey; you set the destination, we just help you get there!
What are the benefits of working with a Health Coach?
A trusting and non-judgmental partnership in strategizing ways to implement, alter, and adapt healthy habits to your life.
Lasting lifestyle transformations shaped from changes that are built upon a solid foundation linked to
your personal core values.
Insight to why changes you've attempted before didn't stick and what to do about that in the future.
Helps you use the skillsets and tools you already have, as well as and your current environment, to design a plan individualized to you
Learning how to anticipate and overcome future obstacles or barriers that could prevent you from achieving your goals.
Having a knowledgeable resource to help you navigate through the complicated and sometimes contradictory health and fitness world and learning what's right for you.
What would a Health Coaching session look like?
Most health coaching sessions will consist of talking with your health coach about your goals, steps you've taken so far to work towards those goals, ways to change or improve what isn't working for you, and develop the nitty gritty details of planning out any new strategies to help you be successful. Health coaching typically uses a strengths based approach, meaning your health coach will help use what you're already good at and what's been successful for you before, to help you progress. In addition, health coaching is often client centered, in which you run the pace and focus of each session.
At Four Seasons, we offer a variety of options to work with a certified health coach to get you the exact type of support you need:
Monthly Subscription Options:

Bronze Plan: Great for those on a budget.
Specialty Web and App Platform Access:
Access to live coach through secure instant messaging for questions

Food log and exercise journal with live feedback

Goal creation and monitoring

Metrics tracking with data visualizations

Support, motivation, accountability, and guidance
Silver Plan: When you also need a little nutrition support and diet variety 
Includes everything in the Bronze package along with a DIY meal plan and recipe collection:
Access to an evolving and growing collection of specifically curated recipes, tailored to your meal preferences and lifestyle

A blank interactive meal planning template that you can drag and drop your recipe selections into with live updates to your grocery list

Receive feedback (if requested) for any meal plan suggestions or modifications

Weekly plan available to print or view online
Gold Plan: Even more individualized planning 
Includes everything in the Silver Plan with a 1 x month detailed weekly meal plan:
Created to your wants, needs and lifestyle preferences of a week's worth of daily breakfast, lunch, dinner and snack recipes to follow

Includes all recipes and a grocery list to follow to make grocery shopping a breeze
Groups: For 5 or more people working towards the same goal, because together, we're better! 
Three different groups available to choose from:
New Beginnings - For new gym goers and people who'd consider themselves a gym "newbie" 
Group Exercise Upgrade - For people hitting the group exercise classes regularly but still need extra support, accountability, and questions on how to best utilize the group exercise classes for their goals or nutrition support 
PIT Plus - For people going to the PIT who want additional guidance and accountability outside of the PIT 
All group options include: 
Expert Guidance and Help:
Unlimited virtual access to a 10+ year professional in the field

Feedback on food or activity journal entries or questions through the secure group chat

Weekly group chat prompts to encourage engagement, focus, and motivation within the group

Reflect on group challenges and brainstorm solutions 

Educational resources for group specific nutrition, workouts, sleep, habits, and other sticking points
Community Support 
Secure and private chat messaging (with ability to send links, attachments, pictures)

Monthly group video chat sessions to connect, discuss any common topics or questions and celebrate wins together

Option to collectively create and participate in group challenges 

1 x month Zoom or in person group sessions to learn more on customized topics pertaining to your group's interests, challenges, and struggle points.
Goal & Progress Tracking
Track multiple and even custom metrics (weight, body fat %, body measurements, blood pressure and more) 

Photo and text journaling for recording food, exercise, water intake, symptoms, hunger, emotions, and thoughts 

Setup seamless integration with Apple Health, Fitbit, and others

Establish and document individual goals and receive app reminders to stay on course
12- Week Plan:
For complete one-on-one support with a customized plan.
Bi-weekly 45min sessions throughout the 12 weeks

Monthly updated 7-day meal plan with additional evolving DIY recipe collection

Complete and unlimited access to Health Coach

Meet online or in-person

Collaborate on different strategies and processes to help you achieve your health and wellness goals

Develop an evolving personalized plan that takes into account your unique needs, preferences, and lifestyle

Guidance, motivation, and accountability to help you make sustainable changes that improve your overall health, mental health, and wellbeing

Cover a wide range of topics, including nutrition, exercise, stress management, sleep, and more.

Know that the ultimate goal is to empower you to take control of your health and make positive changes that support your long-term wellbeing.
Personal Training + Health Coaching Collaboration
Perfect combination of exercise programming, guidance and lifestyle support. This 12 week plan includes 3 health coaching sessions and 24 personal training sessions.
1 x month meeting with health coaching + DIY Recipe collection & health coaching support for healthy eating and living tips and guidance

2 x week 30 or 60 minute personal training sessions & PT support for workouts and fitness related questions