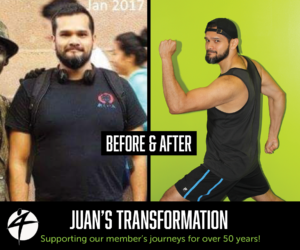 My name is Juan Hernandez and I am from Mexico. I came to the U.S. about 3 years ago, and I'm a network engineer currently working at State Farm. I like to travel with my friends and try new restaurants and go to new places.
My work and my lifestyle were sedentary, which led me to gain a lot of weight, in addition to eating food from restaurants (which was expensive and unhealthy).
Over the years I have tried a lot of things to lose weight, like buying an elliptical and a treadmill (which I still have in my house and hang my clothes on). I also bought a bicycle because I thought it could be a good way to get to work and lose some weight in the process. There have been times that I reached my ideal weight by running outside or using the treadmill, but…
The issue was not maintaining it, because of lack of consistency. I am one of those guys who gets easily bored doing the same stuff over and over, and running or bicycling are no exceptions. Then I decided to join Four Seasons and give it a shot. Over the last year and a half, I have lost about 45 pounds by committing to go to the gym at least 4 times per week (but most of the time I go 5, even 6). Four Seasons has a variety of machines and physical activities, so whenever I feel bored I try something else. My objective is to keep moving. Sometimes I run on the treadmill or track, sometimes I swim or go to a fitness class, and sometimes I lift weights.
How this has helped me? Well… I feel lighter, I am faster, I have more endurance and stamina. I don't feel tired trough the day, my old clothes fit me again, so I don't have to buy new. I am happy with the results!
If you think you need a life-style change, I recommend membership at Four Seasons. It is a wise investment, keeps you healthy and the time you spend working out will fill you with energy and ideas to fully accomplish your day-to-day activities!