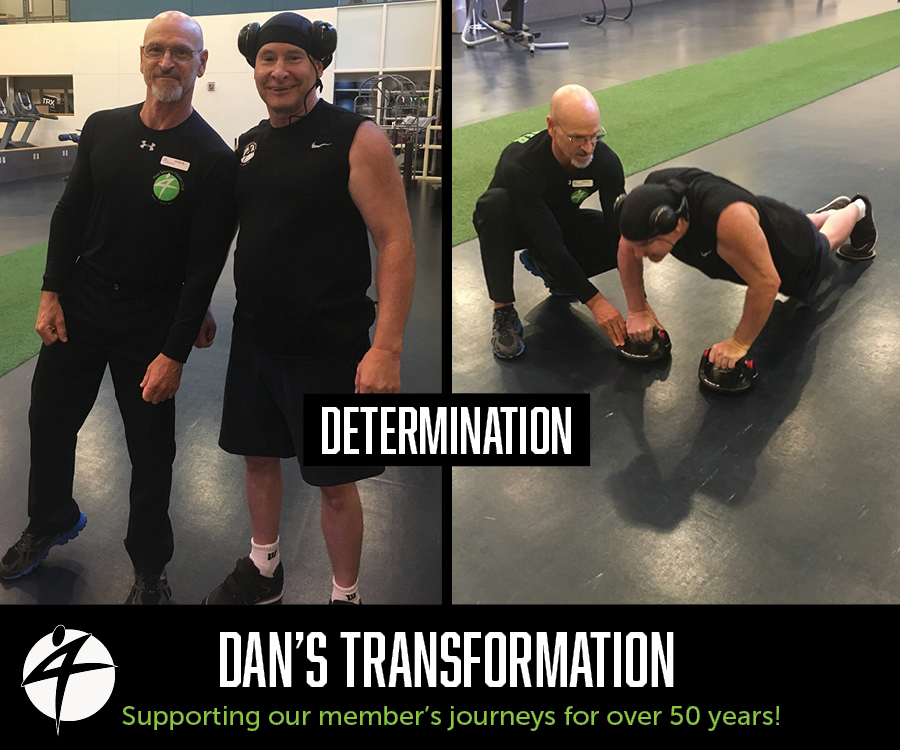 Dan Miller has been a member at Four Seasons for over 10 years. His favorite part about the club is how much he feels at home when he comes in. He has made many friends at the club with members and employees. Dan, once dubbed "the mayor of Four Seasons," is always ready with a cheerful hello and smile to everyone who passes by.
When Dan was in his 20s and 30s he didn't care about his health or working out. He didn't eat well and never went to the gym. Then when he was in his 40s he had a massive stroke. Doctors told him he would never walk or talk again. It was a dismal diganosis, but Dan was very determined to prove them wrong and turn his life around.
He now works out 5 to 6 days a week for 2 hours at a time, rain or shine. You can usually find him walking the steps singing along to his radio, or on the cardio equipment cheering when someone wins on Price is Right! But what has really helped him with his rehabilitation is training 3 days a week with Steve Keist, Four Seasons Personal Trainer. Steve has been training Dan for 6 years now and the progress he has made is astounding. Dan is now 61 years old and doing things in the gym he would have never dreamed of doing when he was younger. Determination, committment, consistency and a postitive attitude have made all the difference!