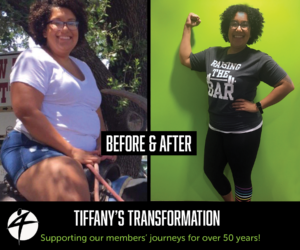 Hi, I'm Tiffany! I recently began my weight loss journey, and more importantly my lifestyle change. My last year in college I was diagnosed with Polycystic Ovarian Syndrome, which caused me to gain almost 60 lbs in 3 months…mind you this was when I had a personal trainer, nutritionists and I was going to 2 fitness classes. After many doctor visits and meds we finally found a balance, but I was still left with all this weight.
When I tipped the scales at nearly 300 lbs I decided it was time to make a change, but I didn't know how to do it. The family I worked for told me about this great gym they were members at. I told them it wasn't in my budget. They decided I needed to make myself a priority and got a membership for me! I was so thankful.
After weeks of working out alone I decided to try one of the Group Fitness Classes. That class was WERQ®. My life was changed! I could not believe there was a class like this. It had the music I loved, people of all ages, sizes and color all in one room.  For the next 4 months I went to every WERQ® class that fit in my schedule!
I was approached about becoming an instructor… I laughed it off because I didn't look like a fitness instructor. Who would want to come to my class? I said no at first. I wanted to reach my goal weight before I considered it. In April of 2017, I became a certified WERQ® Dance Fitness Instructor. In a matter of 4 months I went from despising the gym, to becoming a person who not only loved the gym but I became a fitness instructor.
Because of WERQ® and Four Seasons I lost 64 lbs, became a fitness instructor, teach 5 classes a week, and I found a network of people like me! My journey isn't over, and I know with the friends I've made at Four Seasons it will be a fun journey together.