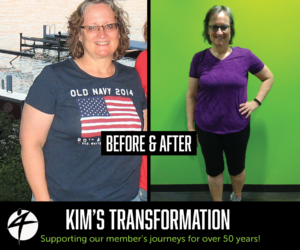 My name is Kim Throop and I've been a member of Four Seasons since 2007, but my weight loss journey really took off in April of 2016 when I enrolled in Four Seasons "Quick Start" program.
My highest weight was 255 and I've since lost 80+ pounds so far! Four Seasons is the best gym for me for lots of reasons: The location, the huge variety of services, the pool, and the group fitness classes! Four Seasons helps me meet my goals through the classes like Zumba and Small Group Training, and the staff makes me feel comfortable.
It means a lot when they remember who you are, and always make sure to say hi when you come through the doors. I'd recommend Four Seasons to anyone!