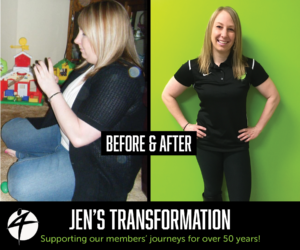 My name is Jen Heiman and I've been a member at Four Seasons ever since I started working here four years ago.
I wanted to work at Four Seasons to be around a healthy environment, so I could maintain my 70-pound weight loss. It's been easy to do, too, with lifting, running, or classes with instructor, David Vale, such as P90X and PiYo. I love the community feel in the clubs.
All my friends workout here, so it's a very social atmosphere with lots of laughs to be had. I'm thankful to be a member at Four Seasons because the connections I've made there hold me accountable, healthy and overall happier with myself.