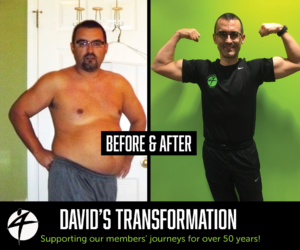 Hi, I'm David Vale and I've been a member at Four Seasons Health Club for over three years. Before I was an instructor here I was a member at Four Seasons purely by word of mouth. Everybody who I asked told me to go to Four Seasons. They said it's the best place to be and the best fitness community in terms of support and building friendships with people who will be supportive of your goals.
Throughout my fitness journey I've lost over 65 pounds and Four Seasons has been there along the way to help reach my goals and maintain my weight loss. By offering unique classes, like yoga, P90X and Insanity I'm able to continue my journey and keep myself accountable with my own fitness.
There are two things that keep me here at Four Seasons as a member and as an instructor/trainer. First are the supportive people and continuous feedback of the people who attend my classes. The people who attend my classes are an inspiring thing for me, and it's the brightest part of my day being here around this community of people. The Second part is the continuous improvement Four Seasons puts into their facilities- making this the best gym for your investment and for the members.