Sam Schulz
I plan to get the first fundamentals of coaching certificate this month before summer swim team. This will be my second summer coaching the Stingrays but I started coaching the Polar Bear Swim Team in the winter of 2015.
Fun fact about me: I swam on the Stingrays for 13 years! In high school, I decided to start diving instead.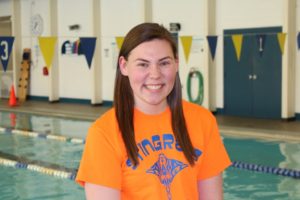 Stingrays Swim Team is part of the Twin City Swim Conference, and the swim meets are scheduled with other teams that are members of the same conference. There may be additional swim meets scheduled at the coach's discretion. Learn more about Stingray Swim Team here.