Karate
About
Four Seasons offers traditional Shotokan Karate training, available exclusively to our members; it provides comprehensive Shotokan Karate training under the guidance of Sensei Jim Stahly and Sensei Ed Chandler (both 5th degree black belts).
Classes are conducted in a safe and formal manner, stressing the courtesy and mutual respect of true traditional karate instruction. Students can expect to also learn punching, striking, kicking and blocking with no weapons of any kind, in addition to some of the Japanese vocabulary and cultural aspects associated with karate.
This program helps develop coordination, agility, and overall health, while training the student to channel mental energy in a positive manner and reducing tension caused by everyday stress.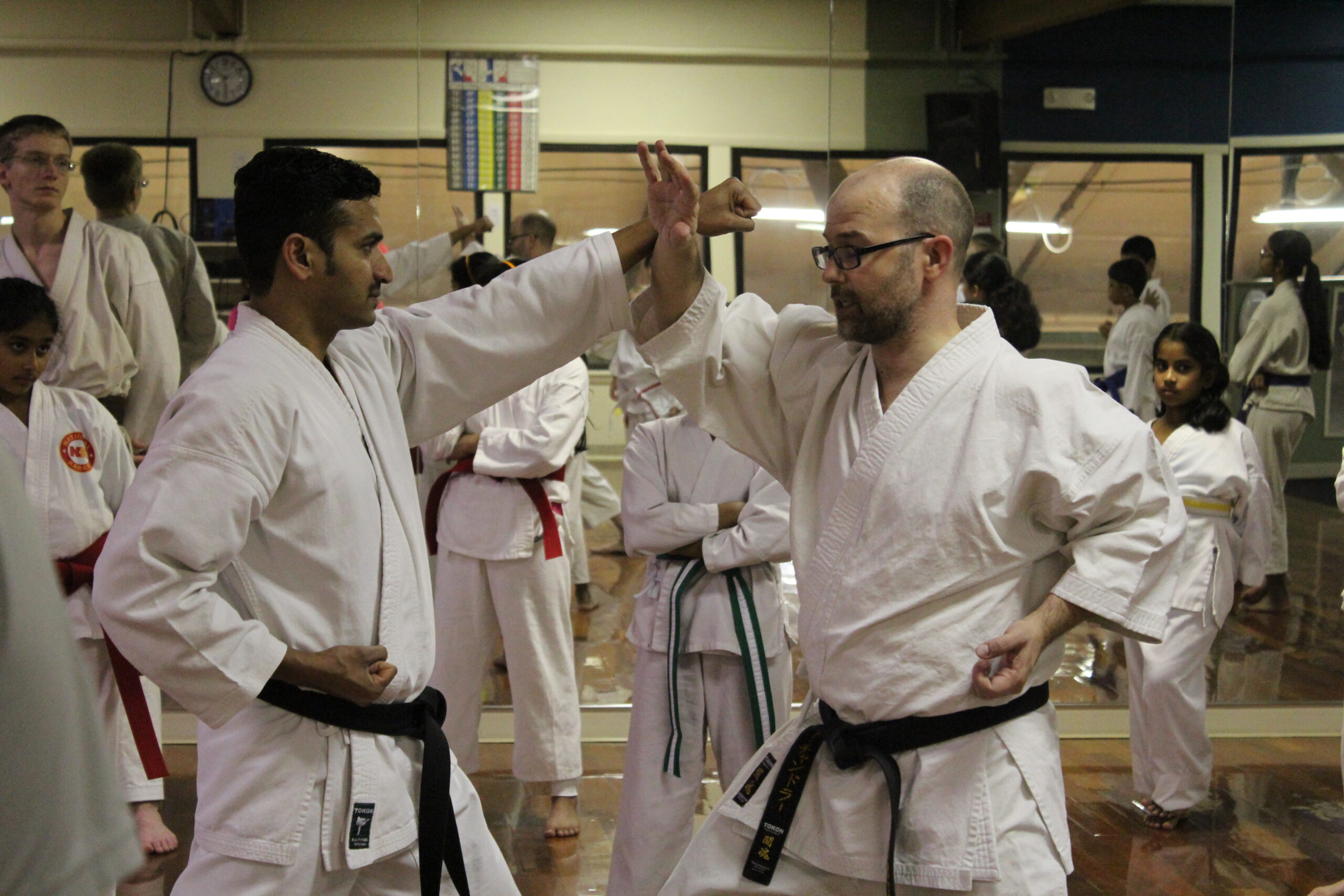 Class Schedule
Youth Karate (Starts at age 6)
Class meets once per week – Mondays OR Wednesdays from 4:45 to 5:25 p.m.
General Karate (Open to ages 9 and up)
Class meets on Monday and Wednesday from 5:30 to 6:50 pm and Saturday mornings from 10:15 to 11:15 am.
Beginners are dismissed early on Mondays and Wednesdays – generally around 6:15 pm.
General karate students may attend any or all of these classes.
Get Started
Registration
Members must register for Karate in person at Four Seasons I. Members are able to register anytime.
Payment
Monthly payments may be made via EFT or credit card.
Family discount: A 10% discount is applied for each additional family member who enrolls in Karate at the same time.
Pricing
Youth Karate:  $18/month (Class meets once per week. Choose Monday or Wednesday.)
General Karate:  $36/month (You may attend any or all general karate classes.)
Instructors
The Shotokan karate program at Four Seasons is administered by the Central Illinois Shotokan Karate Association. The association is headed by Sensei Jim Stahly and Sensei Ed Chandler, who have more than 50 years of combined experience. Other instructors include Elston Flowers, Allison Kroesch, and assistant instructors Tamara Bruha, Mark Will and Joe Klingler.
The youth karate program is under the guidance of Ed Chandler and Allison Kroesch. Allison presently teaches the elementary schedule and holds a Master's Degree in Special Education. Ed is a former school teacher as well.
For more information about enrolling, observing classes or Shotokan Karate please email Karate@4seasons-club.com.