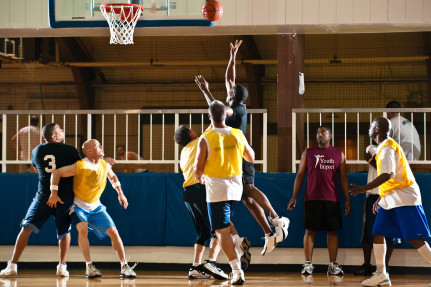 A membership at Four Seasons includes the use of two facilities that are open 7 days/week, along with the following amenities:
Over 130 pieces of cardio equipment, all featuring TVs, satellite radio options, IPOD integration and USB connectivity.
Wide variety of state-of-the-art strength equipment
SIX aerobic studios, including dedicated Spinning & SLX Pilates Reformer studios featuring: Suspended Hardwood Floors, Mirrored Walls, Professional Sound Systems, Reebok Decks, Iron Grip Strength Equipment and Star Trac Spinning bikes with computers
Spacious locker rooms complete with day lockers, showers and vanity/grooming areas
Locks, lap counters & hairdryers**
Juice Bar
Sport Shop
Lounge area with large flat screen TVs
COMPLIMENTARY Wi-Fi access
Individual membership cards for easy self-scan in
Two heated pools, baby pool & whirlpool
Remote controlled lift for easy pool access
Indoor 1/9 mile track
Gym with 17 basketball rims, full size hardwood basketball court, volleyball court & kid's area featuring shock absorption and no-slip grip flooring ("open play" philosophy – first come first serve)
Basketballs, volleyballs and racquetball equipment**
Racquetball courts (to reserve)
Dry saunas
Family bathrooms & changing rooms
Party Room (to reserve – additional fee applies)
The PIT performance training center (additional fee applies)
Steam rooms
Boxing area
Personal Training studio
Fitness Studios/Classes (to reserve – additional fee applies)
*Four Seasons I is an Adults Only facility before 10:00 am. Four Seasons II is an Adults Only facility at all times unless your child is in Childcare. Each facility offers different amenities, come in for a tour anytime during business hours to see what the facilities have to offer.
**It is our commitment to members to keep equipment accessible and in excellent condition. Four Seasons Equipment for rental is at no cost but must be traded for a membership card, keys or an I.D. – if the item is lost or returned in extremely poor condition then the member is subject to charges prior to checking back into either facility.